Bakery Start Up Equipment Necessary To Start Your a small Bakery
Oven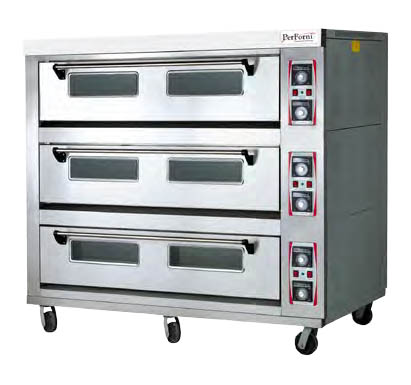 The number one equipment in this list is an oven. And since ovens vary considerably in price and quality, you might have to consider choosing a quality stove while starting out. Actually, small convection ovens can accommodate a maximum of five sheet pans, while their double convection counterparts can hold twice the number of pans. Furthermore, a double deck oven can allow you to bake your confection at two different temperatures at the same time, which makes it a good investment if you are planning to bake artisan breads.
Proofer
Professional bakers also need proof boxes for their roll dough and bread to rise at the recommended temperatures. And since proofers come in different sizes, mobile proof boxes can be recommended for small bakeries, and can as well be moved out when they are no longer in use. Better still, these proofers are generally less expensive than the built-in models, hence suited for small professional bakers who are just starting out.
Racks and baking sheets
Since you are starting out, you'll be required to purchase at least ten baking sheets with three or more racks, as well. In addition, you'll need a number of sheet cake pans, round cake pans, muffin tins and pie pans to start the business.
Mixers
Also important, a spiral mixers and planetary dough mixers with a capacity of 30 to 40 quarts are among the essential equipment to purchase while starting out your bakery business.
Work Tables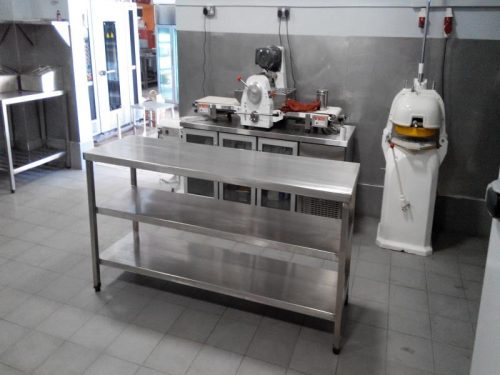 Work tables are important for storing all the items you need while baking or to provide ample working space in your bakery. For this reason, it's recommended that you get the sturdiest work tables that suit your budget, since you'll be using them most of the time. But most importantly, consider your height while choosing which work tables to buy; for example, if you're tall, choose a table that matches your height to protect yourself from back pains.
Chiller
A chiller is "must-have" bakery equipment for storing cold ingredients like butter, milk, and cream. The good thing is that most chillers have flat worktops, which are great in providing the much-needed working space in bakeries. Preferably, getting a chiller with a stainless steel worktop may actually lessen your burden of having to buy more work tables, since you'll have enough space for storing all the baking items that you need.
Sinks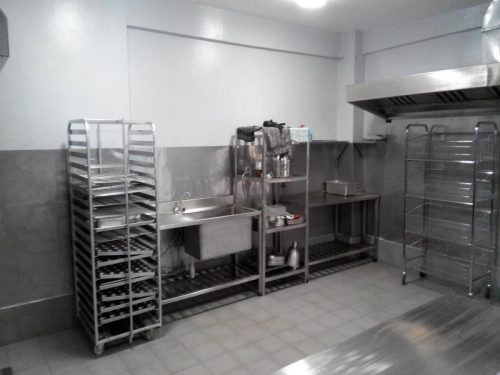 Federal regulations require all commercial food operations including bakeries to at least have 3 sinks while starting out. One, you'll be required to have a three-department sink for washing, rinsing and sanitizing your dishes and other appliances that cannot be effectively washed in a dishwasher. Two, Government regulations demand that you have a mop sink that's exclusively reserved for cleaning your floor. Lastly, you will be required to have a separate sink in the kitchen for washing your hands before or while baking.
Freezers
If you're planning to sell decorated cookies and cakes on a large scale, you'll need industrial freezers to store the cakes and the cookie dough as well. Generally, these freezers are room-sized and can actually store a large number of cakes and cookies.